It's February, Let's Go Play Outside!
Everybody knows it: the Eastern Townships are a magnificent region at all seasons, as well as a destination of choice for a well-deserved vacation! Being that we are in the middle of winter, and since some indoor activities are still not accessible, we thought we could give you some outdoor activities ideas for you and your family.
We asked some of our team members, as well as people who work for the tourism industry in our region, to let us know about their favourite activity. Enjoy the discovery!

---
Manon's choice,
passionate about the outdoors
(Sales Representative, PAL+)
The Sainte-Catherine-de-Hatley Massawippi trail is undoubtedly Manon's favorite hike… And this great connoisseur has tried several!
The trail is open to everyone and offers a magnificent natural forest environment throughout the year, particularly in winter. Her recommendation? Bring your walking sticks, especially for the ascent, if you choose the Lake Trail.
© Michelle Poudrier
---
Jessie's choice,
Mount Orford's #1 fan
(Content Coordinator, Tourisme Cantons-de-l'Est)
Jessie loves ALL outdoor activities at Mount Orford, including snowshoeing and alpine hiking.
However, if she could only choose one favourite activity (it's almost torture!), she would choose glade skiing. She's an alpine skier since the age of 5, and this mountain is one of her preferred winter playgrounds. "Écureuil", "Orignal", "Passe de l'Ours", "Chevreuil"… these glades hold no secrets for Jessie! According to her, they are particularly fun to go down in after a heavy snowstorm!
---
Thierry's choice,
hiking enthusiast
(Manager, Bistro 4 Saisons)
Thierry is passionate about hiking, whatever the season. That's good news since he works at Bistro 4 Saisons, located directly at the base of Mount Orford (within the Espace 4 Saisons)!
He loves climbing Mount Giroux, and its East slope is only a 2-minute walk from the hotel. His favorite trail with crampons is the Slalom. When he finishes his work day, he puts on his crampon boots, goes outside… and he's gone!
---
Noémie's choice,
Memphrémagog expert
(General Manager, Tourisme Memphrémagog)
Noémie knows the greater Magog/Orford region very well (obviously!)
In winter, and especially this year, she likes to go out regularly and be active with her family. Her favorite spot is the Jouvence resort, which offers many outdoor activities for all seasons. Her favorites for the cold season? Hebertism and tube sliding!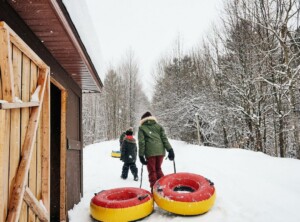 ---
Corinne's choice,
Eastern Townships lover
(Marketing Consultant, PAL+)
To be honest, Corinne is not a big fan of winter…
She certainly prefers to enjoy the magnificent landscapes the region has to offer during the summer season! But its essential to get some fresh air, so she chooses to stretch her legs by skating the icy trail at Pointe-Merry, in Magog. A classic that never gets boring!
---
As you can see, there are activities to do in the area that fit all tastes. No matter what you choose, you are sure to have fun with your family!
During your stay (even if you live nearby!), take the opportunity to come and experience a "cabin" type stay in our beautiful rooms and suites. Many have a fireplace, a full kitchen, washer/dryer… and a breathtaking view of Mount Orford! The Bistro and Burger Pub menus are available if you prefer a complete experience with room service.
Psst! There are rooms still available for spring break… Hurry!
We look forward to welcoming you safely.
---
Les Cantons-de-l'Est sont l'endroit idéal pour changer d'air… même si c'est votre région!
Pour découvrir ou redécouvrir ce que notre magnifique région a à offrir,
visitez les sites web de nos partenaires touristiques :
Tourisme Cantons-de-l'Est Tourisme Memphrémagog
February 16, 2021 – Since the sanitary measures imposed by the government change regularly, open/closed common spaces and available services may vary.

*Warning: make sure you park your car in the parking lot and not on the street to be sure you don't get a ticket.
Other news
October 10 2023
A Decor Enhanced by Art! 
A Decor Enhanced by Art! Espace 4 Saisons is decorated with the work of artists from Quebec (and elsewhere), and guests can enjoy it all…
Read more →