Ski and Après-Ski at Espace 4 Saisons

No sooner have the first snowflakes kissed the ground than our minds start turning to the upcoming ski season!
Espace 4 Saisons hotel is the ideal venue for a ski vacation in the region of Magog-Orford. Not only does it have a wide range of facilities, it is also situated in the perfect location―near the ski slopes!
Here is some practical information to help you plan a memorable trip. It covers all aspects of your stay―from your arrival at the hotel, to the top of the mountain, and of course, après-ski activities!
---
Espace 4 Saisons―the Starting Point of your Stay
After you leave your luggage in your room, here's what you need to know:
There's no need to take up space in your room because we have lockers (with keys) where you can leave your ski equipment when you aren't using it. Just pick it up before heading to the slopes and store your gear again when you're back at the hotel.
Mount Orford, one of the region's most popular ski centres, is a 2-minute drive from the hotel. The mountain has 44 trails and 17 glade runs, spread over four slopes.
If there's a snowstorm, there's no need to worry about digging out your car. We have indoors parking lots!
Ski equipment can be rented at the Mont Orford ski centre.
Perhaps you've forgotten something? Your helmet? Gloves? Climbing skins? Goggles? No problem! There are a couple of sports equipment shops―Ski Velo or Le Pied Sportif―situated only a 10-minute drive from the hotel, where you can find what you need.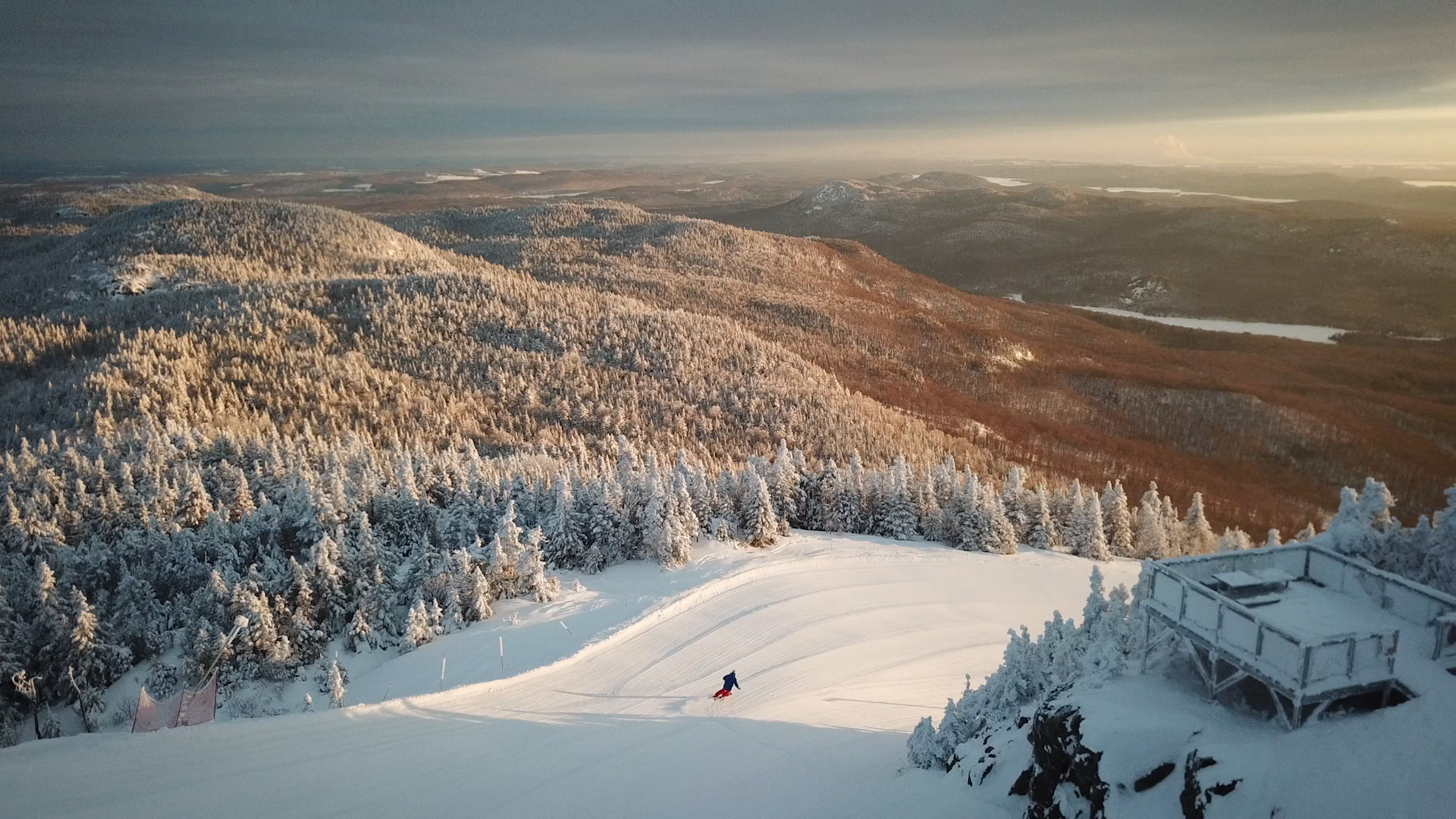 © Mont-Orford
---
Skiing… and Much, Much More!
There's more than just skiing at Mount Orford! The mountain offers several other winter activities such as alpine touring, snowshoeing, fat biking and cross-country skiing―more than enough to keep you busy for days!
One of our own favourite winter activities is swooshing along the long ice rink (in summer it's the bike trail) that hugs the shores of Lake Memphremagog. When the sun goes down, the lights come on, casting a magical glow over the skaters. Take the opportunity to stop by LeKómptoir to warm up with a delicious latte or hot chocolate.
In addition to skating and the other winter activities, there's a wonderful walking trail across the wetlands in Magog―Marais de la Rivière-aux-Cerises―one of the key attractions in our beautiful region.
© Hôtel Versо̄
---
Après-Ski Spells Relaxation and Great Food!
After an active day in the great outdoors, you'll need to recoup your energy!
Has all that skiing left you with a craving for something to eat? Well then, head to the Burger Pub, which is within the Espace 4 Saisons hotel. The Pub is a drawing card for skiers and snowboarders who love the friendly ambience and yummy comfort food―burgers, nachos, ribs, homemade fries. The list goes on…
To ease those aching muscles, book a treatment at the Dôme de Morphée spa. It offers a range of massages―Swedish, therapeutic, Californian, Ayurvedic. The choice is yours!
Unwind at the end of the day in the entertainment room at the Espace 4 Saisons hotel where you can play billiards, table football or watch a movie, then head back to your room and fall into bed for a good night's sleep.
© Burger Pub
---
Book your stay on our website or by phone. We're more than happy to help you plan some activities while you're in our region!
---
To read our other blog posts, click here!
Other news
October 10 2023
A Decor Enhanced by Art! 
A Decor Enhanced by Art! Espace 4 Saisons is decorated with the work of artists from Quebec (and elsewhere), and guests can enjoy it all…
Read more →